"Hiroshima Sekai Isan Kouro" is the high speed boat that connect The Peace Memorial Park (A-bomb doom) and Miyajima (Itukushima). it is the fastest transportation to go between 2 world cultural Heritage sights. Very convenient way of travelling without traffic jam but with good scenery.
Starting from Motoyasu bridge, it will take 45 minutes to Miyajima. We don't have much chance to enjoy the cruise of the Setouchi inland sea while seeing the serene view. It is so soothing just to watch sparking ocean in sunny day. But if you are easily get seasickness, ferry from Miyajima-guchi is recommended.
The one way ticket is 2200 yen for adult, 1100 yen for children. For round trip, you will get 200 yen discount. 4000 yen per adult and 2000 yen for children.
It is a bit expensive compare to moving around with tram, but you don't have to worry about transfer. Enjoy the air condition and relax while you move. Short cruise that connect 2 World Cultural Heritage sights in canal city Hiroshima. Must take course to see both site in 1 day.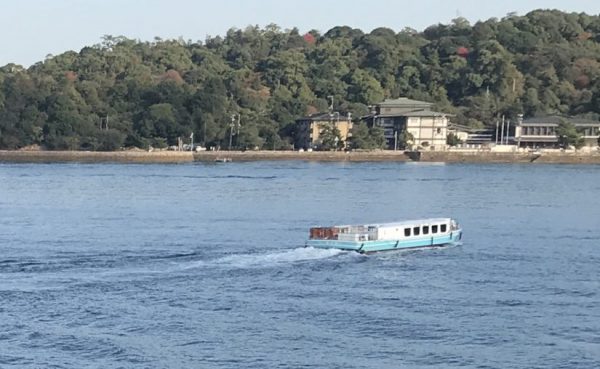 Chips before you ride the boat
* Need to book the ticket at least 1 day prior to the date. You can make reservation by phone or web. They will issue the ticket on the day you booked. Call [082-240-5955] to make reservation by phone.
* If you are using wheel chair, let them know when you make a reservation.
* You can have a seat if there is opening.
* Because of the tide situation, boat can be cancelled. Check the sight for that.
* Issue the ticket at least 15 minutes before the boarding time.
* The ferry port don't have the toilet. Please use it in the Peace Memorial Park. The boat have a toilet.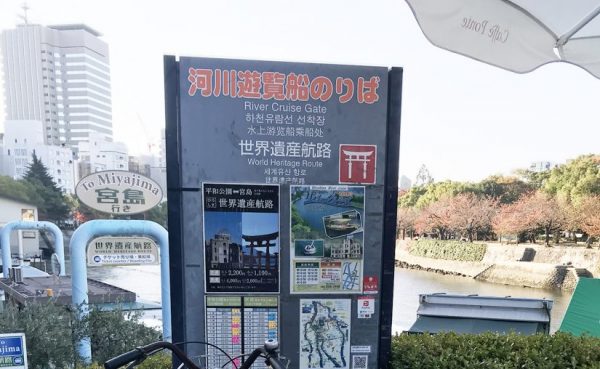 This is the entrance sign of [Hiroshima Sekai Isan Kouro] ticket counter in Peace Park.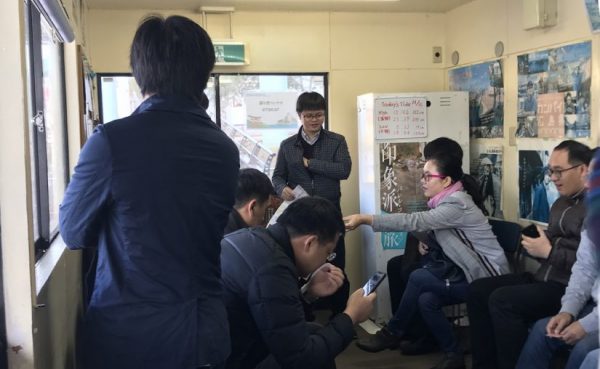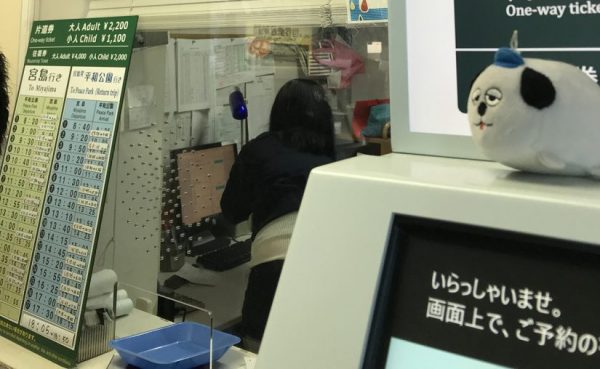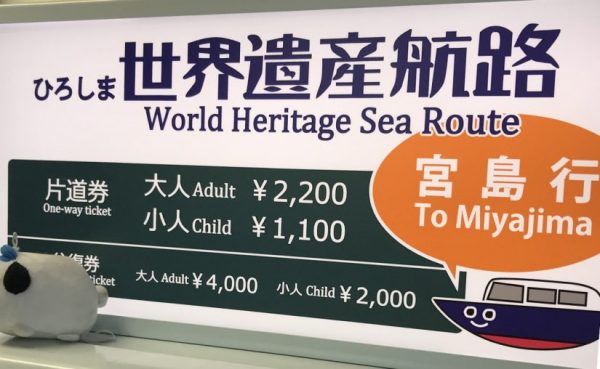 Inseide the building is waiting room. there are ticket counter and information counter inside.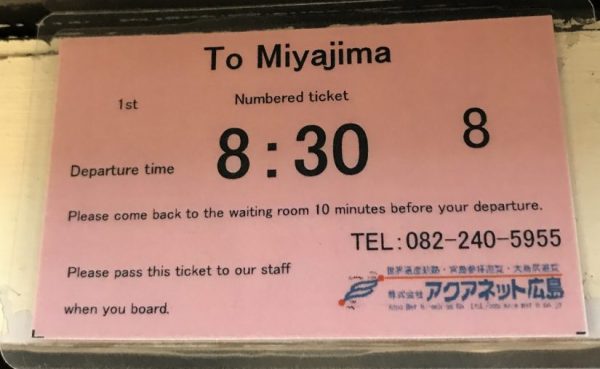 After buying the ticket, exchange the ticket with numbered ticket. Don't lose it.
Submit the numbered ticket when you board. The ceiling of the entrance is very low. Mind your head.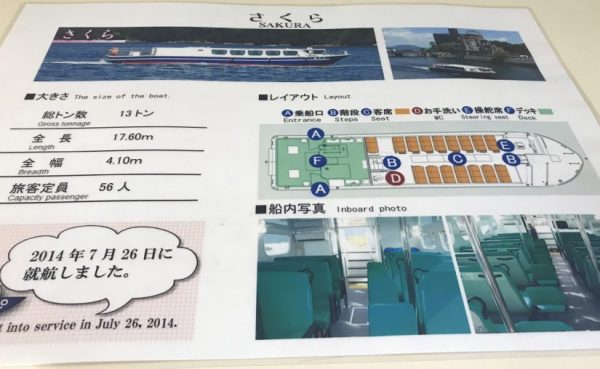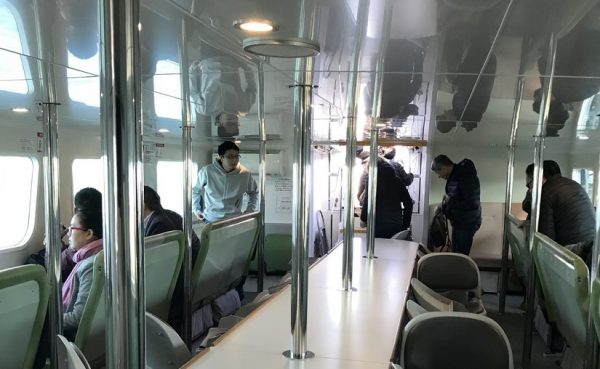 The seat is arranged with 3 to 4 seat per row. Outseide seat will be facing the window and middle seat facing inside that difficult to see the view. but there is a big screen inside that shows you the view..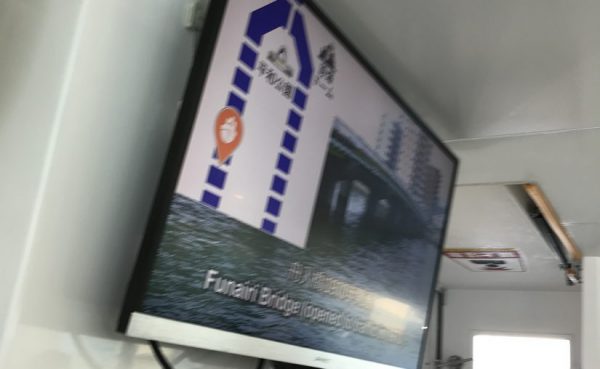 When the boat approaching the bridge, they will show the name of the bridge, too.
You can enjoy the different speed when the boat travel river and ocean.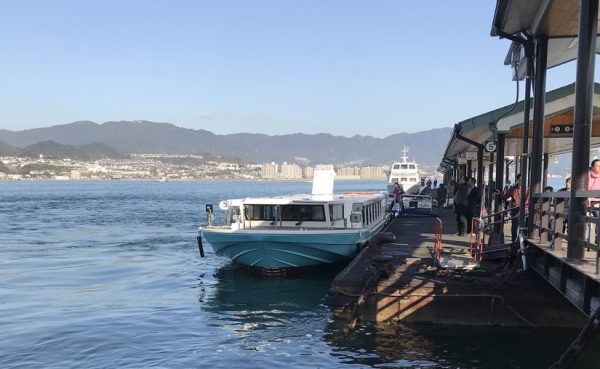 The ferry terminal when the boat launched to Miyajima .
]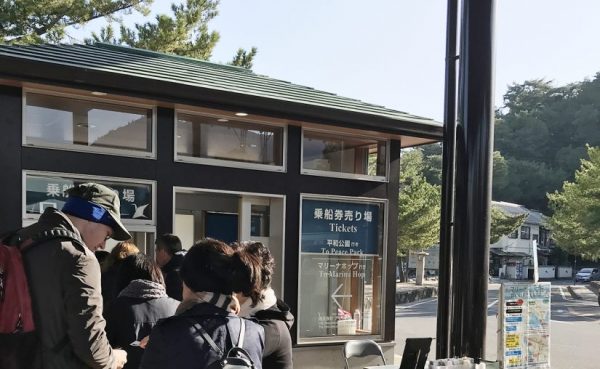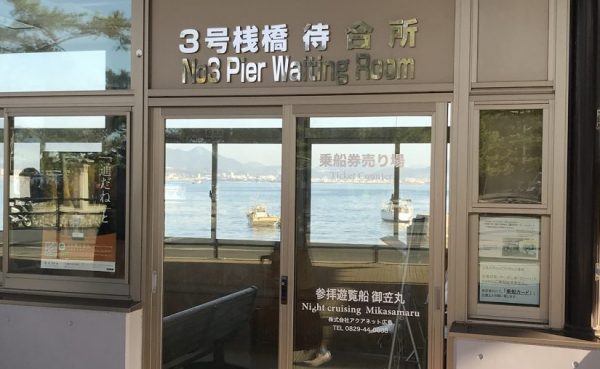 ticket counter and waiting room
name Hiroshima Sekai Isan Kouro
address otemachi 1-9, Naka-ku, Hiroshima city, Hiroshima 730-0051
phone number 082-240-5955 (office hour 8 AM- 7 PM)
Fee
One way
Adult (13or up)2,200 yen  child (6-12)1,100yen
round trip
adult (13 or up)4,000 yen   child (6-12)2,000 yen
website Japanese http://www.aqua-net-h.co.jp/heritage/
English  http://www.aqua-net-h.co.jp/en/heritage/