Itukushima Shrine and the great Torii change it view with tide.
Enjoy the beautiful scenery at high tide and walk right under the Torii at low tide. It is recommended to see both.
High tide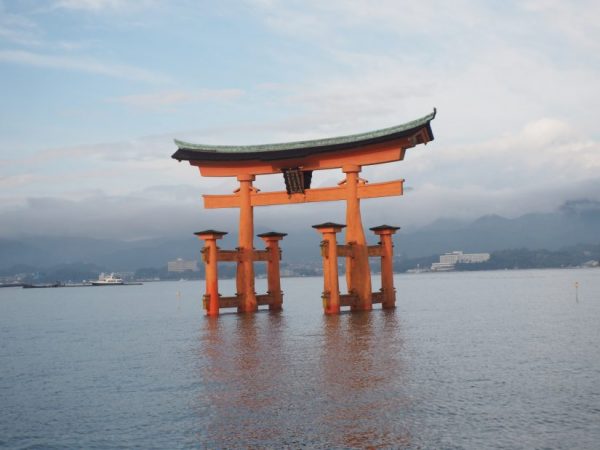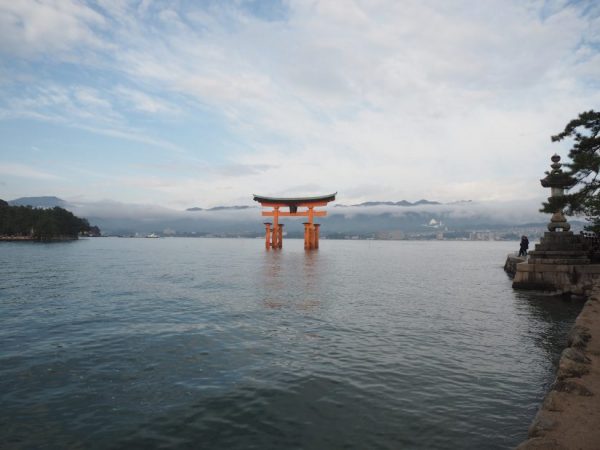 Low tide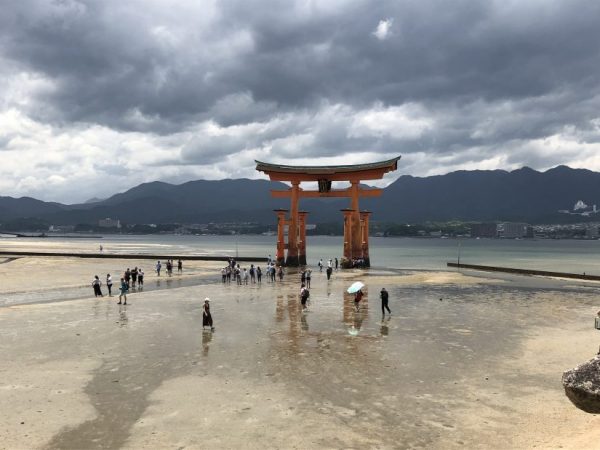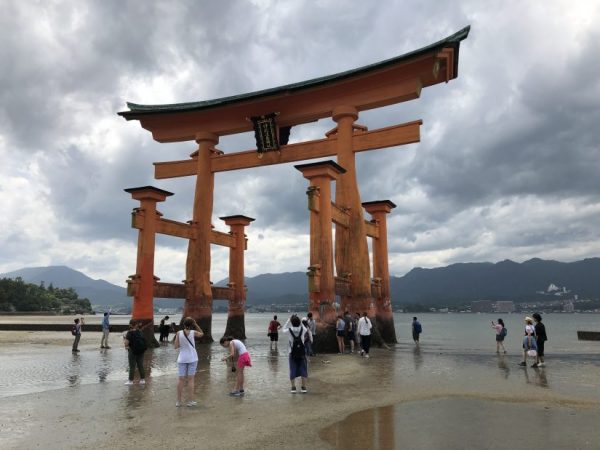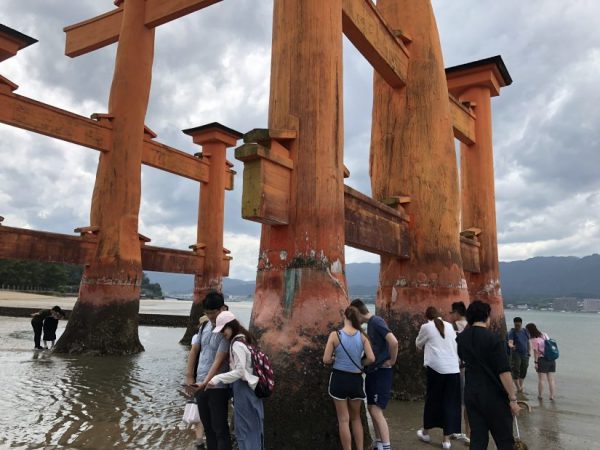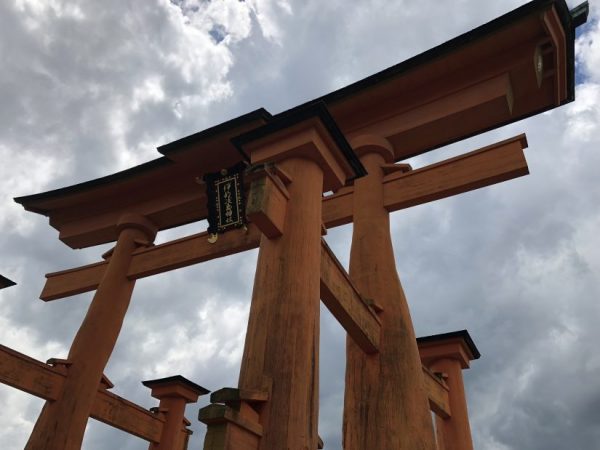 If you have decided when to come to Miyajima, why don't you check the tidal info.
Tide times in Miyajima
August 2018
Date
High tide
Low tide
1
0:08
12:07
6:15
18:20
2
0:40
12:46
6:50
18:56
3
1:14
13:30
7:29
19:36
4
1:50
14:23
8:13
20:24
5
2:34
15:36
9:08
21:31
6
3:33
17:08
10:20
23:08
7
4:52
18:33
11:41
–
8
6:13
19:39
0:40
12:54
9
7:22
20:34
1:48
13:56
10
8:22
21:23
2:42
14:50
11
9:14
22:07
3:29
15:38
12
10:02
22:48
4:12
16:23
13
10:47
23:27
4:53
17:06
14
11:31
–
5:33
17:46
15
0:05
12:14
6:13
18:26
16
0:41
12:58
6:52
19:05
17
1:16
13:46
7:33
19:47
18
1:53
14:47
8:19
20:37
19
2:35
16:17
9:18
22:00
20
3:38
17:56
10:43
–
21
5:16
19:08
0:01
12:09
22
6:39
19:59
1:20
13:13
23
7:37
20:39
2:08
14:02
24
8:21
21:12
2:45
14:42
25
8:58
21:42
3:16
15:17
26
9:32
22:11
3:45
15:49
27
10:05
22:40
4:14
16:21
28
10:39
23:09
4:44
16:53
29
11:13
23:39
5:15
17:25
30
11:49
–
5:47
17:58
31
0:09
12:27
6:21
18:33
September 2018
Date
High tide
Low tide
1
0:40
13:08
6:57
19:12
2
1:14
13:58
7:37
19:57
3
1:52
15:06
8:26
21:02
4
2:48
16:44
9:38
22:51
5
4:18
18:20
11:14
–
6
6:01
19:28
0:37
12:41
7
7:18
20:20
1:42
13:46
8
8:16
21:05
2:30
14:38
9
9:05
21:45
3:13
15:24
10
9:50
22:22
3:52
16:06
11
10:32
22:58
4:30
16:46
12
11:13
23:32
5:07
17:23
13
11:53
–
5:43
18:00
14
0:04
12:33
6:18
18:35
15
0:35
13:15
6:53
19:12
16
1:05
14:06
7:30
19:56
17
1:37
15:23
8:14
21:08
18
2:26
17:16
9:28
23:42
19
4:24
18:36
11:26
–
20
6:19
19:30
1:01
12:45
21
7:21
20:09
1:46
13:37
22
8:04
20:41
2:20
14:18
23
8:39
21:10
2:49
14:52
24
9:13
21:39
3:17
15:25
25
9:46
22:08
3:46
15:57
26
10:20
22:38
4:16
16:30
27
10:55
23:08
4:47
17:03
28
11:31
23:39
5:20
17:38
29
–
12:10
5:54
18:14
30
0:11
12:52
6:29
18:54
October 2018
Date
High tide
Low tide
1
0:44
13:42
7:09
19:42
2
1:24
14:50
7:59
20:52
3
2:23
16:28
9:12
22:51
4
4:09
18:03
10:58
–
5
6:01
19:09
0:28
12:28
6
7:13
19:58
1:26
13:31
7
8:07
20:40
2:11
14:22
8
8:53
21:18
2:51
15:06
9
9:35
21:53
3:29
15:46
10
10:15
22:27
4:05
16:23
11
10:53
22:59
4:40
17:00
12
11:31
23:29
5:13
17:34
13
12:09
23:57
5:46
18:09
14
–
12:47
6:17
18:44
15
0:25
13:31
6:50
19:25
16
0:57
14:29
7:27
20:27
17
1:42
16:07
8:20
22:50
18
3:13
17:41
10:08
–
19
5:41
18:42
0:19
11:56
20
6:51
19:26
1:08
12:59
21
7:37
20:01
1:43
13:44
22
8:14
20:32
2:14
14:22
23
8:49
21:03
2:44
14:57
24
9:24
21:34
3:15
15:31
25
10:00
22:07
3:47
16:07
26
10:37
22:39
4:20
16:43
27
11:16
23:13
4:55
17:20
28
11:56
23:48
5:31
17:59
29
–
12:41
6:10
18:43
30
0:26
13:33
6:53
19:36
31
1:12
14:40
7:46
20:51
November 2018
Date
High tide
Low tide
1
2:20
16:07
9:00
22:36
2
4:08
17:33
10:38
–
3
5:51
18:38
0:02
12:05
4
7:00
19:28
1:00
13:10
5
7:53
20:10
1:46
14:01
6
8:38
20:48
2:26
14:45
7
9:19
21:23
3:04
15:25
8
9:58
21:56
3:40
16:03
9
10:36
22:28
4:14
16:39
10
11:12
22:58
4:47
17:13
11
11:49
23:27
5:19
17:48
12
12:25
23:58
5:50
18:24
13
–
13:04
6:22
19:04
14
0:33
13:50
6:57
19:56
15
1:18
14:51
7:43
21:19
16
2:26
16:14
8:51
23:02
17
4:25
17:32
10:33
–
18
6:01
18:28
0:09
12:01
19
6:59
19:11
0:55
13:00
20
7:43
19:49
1:32
13:46
21
8:23
20:25
2:08
14:27
22
9:02
21:01
2:43
15:07
23
9:41
21:38
3:20
15:46
24
10:22
22:15
3:57
16:26
25
11:04
22:54
4:36
17:07
26
11:48
23:34
5:16
17:51
27
–
12:35
5:59
18:38
28
0:19
13:26
6:46
19:33
29
1:12
14:25
7:40
20:39
30
2:19
15:34
8:45
22:01
December 2018
Date
High tide
Low tide
1
3:50
16:49
10:07
23:22
2
5:27
17:57
11:32
–
3
6:41
18:52
0:27
12:43
4
7:37
19:38
1:18
13:39
5
8:24
20:19
2:01
14:26
6
9:06
20:56
2:41
15:08
7
9:45
21:31
3:18
15:47
8
10:23
22:04
3:54
16:23
9
10:58
22:36
4:27
16:58
10
11:33
23:08
5:00
17:32
11
12:07
23:42
5:31
18:07
12
–
12:42
6:04
18:45
13
0:18
13:20
6:39
19:28
14
1:01
14:03
7:19
20:20
15
1:54
14:55
8:08
21:27
16
3:09
16:01
9:14
22:46
17
4:48
17:12
10:42
23:53
18
6:10
18:13
–
12:06
19
7:08
19:03
0:45
13:08
20
7:57
19:49
1:31
14:00
21
8:43
20:32
2:14
14:46
22
9:27
21:15
2:57
15:30
23
10:11
21:59
3:40
16:14
24
10:56
22:43
4:24
16:58
25
11:40
23:29
5:08
17:44
26
–
12:26
5:53
18:30
27
0:16
13:12
6:39
19:19
28
1:07
14:00
7:28
20:14
29
2:06
14:54
8:22
21:17
30
3:20
15:56
9:27
22:32
31
4:53
17:06
10:49
23:47